5 Mar 2020: RAR+F Regulated Agent Regime Workshop (1 day)
March 5 @ 9:15 am

-

1:45 pm

$800 – $1230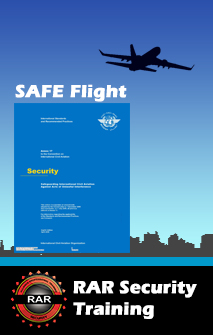 Regulated Agent Regime Security Training (RAR+F)

This course is designed to provide participants to have understanding of the conceptual and practical knowledge, security awareness and skills on airfreight and warehouse operations in relation to Aviation Security.

Course contents:

Understanding the concept of air cargo security in respect of aviation security.
Case sharing on common practice to prevent unlawful interference of air cargo.
Raise the security awareness on air cargo operations during cargo acceptance, preparation and storage.
Fully understand the requirements of security program.

Who is it for:

Category 3,4,5,6,7 Personnel In aviation industry
Recommended for :
Business owner who liable to their shipment
Shipping professional who need top proceeding air shipment
Cargo agent, terminal and carrier staff and professional who need to dealing with air shipment

Special note: This training is award baring course, examination passing rate is 80%

Read more:
Course Information
Training Policy
| | | | | | |
| --- | --- | --- | --- | --- | --- |
| Course Code | Date | Fee HK$* | Venue | Time | Medium of instruction |
| AKMRARF200305 | 05 Mar 20 | $ 990- | TBC | 09:15-13:45 | Cantonese |
* For Alliance's Airfreight Compliance Program client, please contact Alliance for course fee.
# HK$100 discount for enrolling the class in case of payment settled on or before 31 Jan 2020.
Refer to RACSF course Information at:
https://training.alliancealliance.com/course/20200305-racsf-training/
We reserve the right to change the venue base on the best facility arrangement.
Terms and Conditions:
Read the training policy before submission of enrollment form